Parsley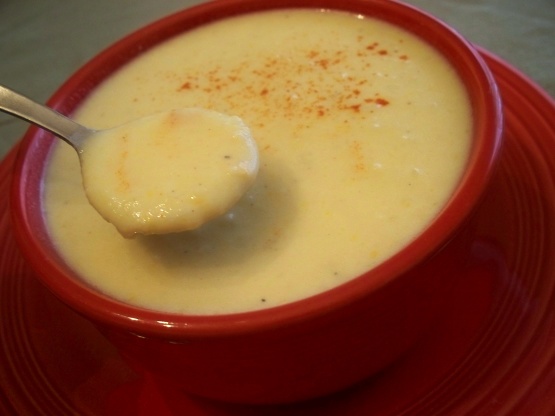 A perfect winter warmer. Can be frozen for up to one month, without the cheese.
Since there were no seasonings mentioned in the recipe, I simply added S&P to taste, parsley and dried chives (although I'm sure you could use fresh). I added the parsley and chives at the very end about 10 min. before serving and it was just delicious. A good "winter" soup.
Heat the butter in a large saucepan.
Tip in the onion and cook until softened, about 5 mins, stirring often. Add the cauliflower, potato, stock, milk and seasoning.
Bring to the boil, then reduce the heat and leave to simmer for about 30 mins until the cauliflower is soft and the potato almost collapsing.
Whizz in a food processor or crush with a potato masher until you get a creamy, thick soup.
Top up with more milk to thin a little if serving in mugs. You can make ahead up to 2 days in advance, cool, cover and leave in the fridge until needed, or freeze for up to 1 month.
When ready to serve, warm through, ladle into mugs or bowls, top with the cheese, then stir through before eating.