Diana 2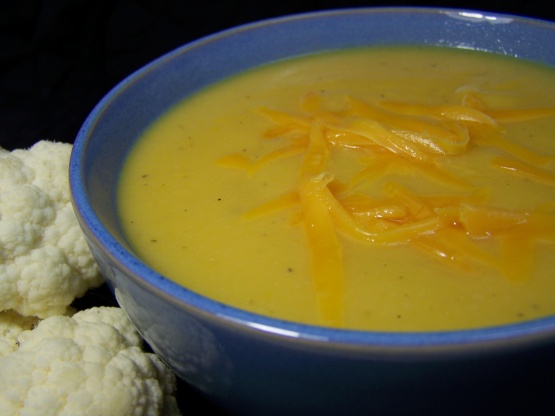 This is a modified recipe, originally called Farmhouse Cheddar Soup, which I clipped out years ago. I make it often and freeze in individual servings to reheat. You can reserve 1 1/2 c of the cauliflowerets to saute in some butter and add after the soup has been pureed. I usually just puree it all in the soup pot with a hand blender.

Good flavors! Next time I would not puree, I would just use a potato masher, I prefer a less smoothe texture. DH made the comment that this recipe didn't taste "homemade". I was slightly offended. :)
Combine water/stock, potatoes, cauliflower, onion, carrot and garlic in large pot.
Bring to a boil.
Simmer 15 minutes or until vegetables are tender.
Remove from heat and let cool 20 minutes.
Puree in food processor or blender or use hand blender.
Return to pan and stir in remaining ingredients until cheese melts.