Parsley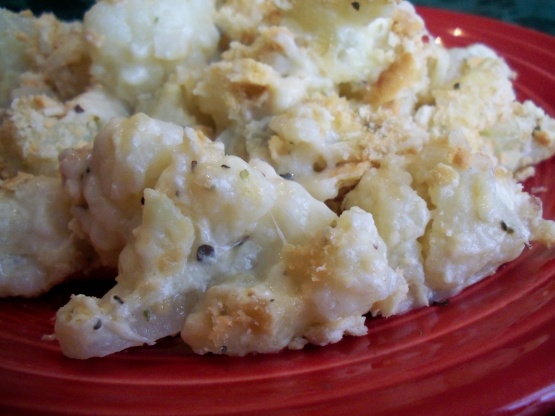 I got the recipe from a friend who said she never has leftovers when she makes this for a party or holiday.

This was OK for us. I followed the recipe as written using frozen cauliflower. I also used the cheddar cheese as that is all I had. Maybe we would have liked it better with swiss. I followed the recipe exactly as written. We thought the sauce was a bit runny. Not sure why though.
If using fresh, clean, break into small pieces and cook for 10 minutes. If using frozen just cook for 10 minutes. Drain well.
In a greased baking dish, combine sour cream, soup, salt, pepper, parsley, onion powder, & cheese.
Gently fold in cauliflower.
Top with bread crumbs and bake at 350 degrees for 30 minutes (covered).
Option: Can replace cauliflower with broccoli.