A Good Thing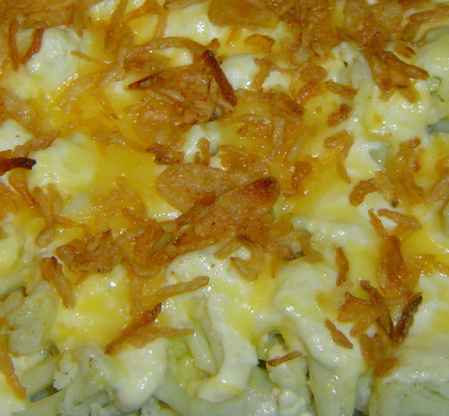 This is Grandma Nichols's recipe...I hope you enjoy it as much as I do! We miss you, Grandma! I always HATED cooked cauliflower...until I tasted this! It's oh, so, good! Great with holiday roasts, hams, turkey, etc. or just on it's own when you are pressed for time and don't have the energy to cook a big dinner.

My this is rich, but really the ultimate in cauliflower casseroles. It has a great flavor & might convince those who think they don't like cauliflower to reconsider. The onion topping just finishes everything off perfectly. I did cook the cauliflower in the microwave. I cut it into florets, rinsed, and put in it into a casserole dish with a cover. Cooked on high for 5 minutes with no added water. It steamed perfectly. I then followed the rest of the istructions exactly. Thank you for sharing your recipe!
Preheat oven to 325 degrees F.
Bring a medium sized pot of salted water to boil. While water is heating, wash and cut cauliflower into small or medium pieces. If using frozen cauliflower, skip this step.
Once water is boiling, carefully add cauliflower. When water has returned to boil, turn down and simmer - uncovered - for approximately 8 minutes (or until cauliflower is about half cooked).
While cauliflower is simmering, use a fork or whisk to mix mayonnaise and sour cream in a bowl. Sprinkle with garlic salt to taste. If too thick, add a small amount of milk. You want this to be about as thick as pancake batter.
Once cauliflower is cooked to half-way, strain and allow to sit for a few minutes to "dry out". Once rested, place cauliflower in oven-proof baking dish (glass or metal), sprinkle with a touch of salt and pepper, and cover with mayonnaise/sour cream sauce.
Cover with shredded cheese. Place in oven and bake, uncovered, for 15 minutes or until cheese is melted.
Remove from oven and place French Fried onions on top. If you don't have French Fried onions, try crushed corn flakes or a mixture of bread crumbs and/or cracker crumbs. Return to oven and bake long enough to crisp and brown onions or other crunchy toppings (about 5 to 7 minutes). Watch this carefully so the onions or other topping doesn't burn.
Serve immediately but be careful! It's really hot and will catch little ones unaware!