Prep 20 mins
Cook 20 mins

Directions
Preheat oven to 375. Lightly grease a 2-qt baking dish; set aside.
Cook cauliflower in boiling salted water until crisp-tender (about 6-7 minutes); drain.
Place cooked and drained flowerets into the prepared baking dish.
Meanwhile, melt 3 tbsp of the butter in a saucepan and saute the scallions for about 5 minutes.
Stir in the flour until smooth.
Very gradually add milk, stirring constantly. Add salt, pepper and paprika.
Continue cooking and stirring until sauce is thickened and smooth, for about 3 minutes. Stir in the mustard .
Evenly pour the sauce over cauliflower in the baking dish.
Sprinkle the Gouda cheese over casserole.
Mix the crushed crackers with the 3 tbsp of melted butter; sprinkle over top of the cheese layer.
Bake at 375 for 20 minutes.
Most Helpful
YUM! It's a 5-star for me fershure! The seasonings were adjusted slightly…more paprika, a little less white pepper and mustard. I did add some gouda to melt into the sauce, which I think was a fine idea, and since I used a shallow but wide dish, I used more cheese and buttered cracker crumbs to cover the top. I love this and certainly will make it again. Thanks for posting it!

I chose this recipe for the Make it Healthier challenge, and this turned out absolutely awesome! Definitely a comfort food, even with lower fat adjustments. I only used 1 tablespoon butter and substituted 1/2 teaspoon imitation butter for the melted butter. Also instead of crackers I used a non-fat garlic cracker (Kavli). This probably increased the salt content, but that wasn't my concern. You could use corn flakes too. Instead of whole milk I used 1% milk. I had a horseradish Dijon mustard in the fridge, but I think another type of mustard (other than Dijon) might taste good in this too. Wow, this was good. I think I'll make this again. Thanks *Parsley*!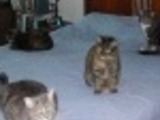 This is a really great recipe..Family members that normally wont eat Cauliflower, lap this up. We like it so much we're serving it with Thanksgiving dinner!