Cauliflower Carrot Soup or Broccoli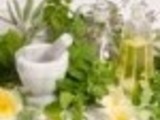 This is from Norene Gilletz's Healthy Helpings. I tinkered with it a bit. It is full of good flavours and good for you. This can be served as a lunch with some crackers or in a small soup bowl for the first course at a dinner party. I made ths with broccoli intead of cauliflower; came out excellent.
Directions
Prepare vegetables.
In large sauce pan, heat oil.
Add onions,celery and garlic.
Sauté on medium-low heat about 5 minutes stirring occasionally. If necessary add a little water to prevent sticking.
Add potatoes, carrots and broth to sautéed vegetables.Bring to a boil. and simmer 20 minutes uncovered.
Add cauliflower and red pepper.
Simmer another another 15- 20 minutes vegetables are tender.
Pureé with hand blender or potato masher to break up vegetables; leave the soup chunky.
Add milk, thyme, salt and pepper to taste.
At this point you can more or less milk depending on how thick you want to have your soup.
Tip:.
I used Carnation no fat milk.
Reheats and freezes well.
You can replace the cauliflower with broccoli for a different version.
Most Helpful
This was a very yummy soup. I love the flavors of the mix of veggies. The only thing I did different was to add half and half instead of skim milk. I used my immersion blender in the soup but left a few pieces. Wonderful taste. Thanks so much for the recipe post Sage.

Super yummy and healthy. I have made it with both cauliflower and broccoli. I much prefer the broccoli version. Also used half and half instead of milk and half of the chicken broth was homemade which gives it a more savory flavor.

When I made this it turned out rather bland. Maybe because I held back on the onions a bit? I ended up putting some curry powder in because it needed some extra flavor.