loof751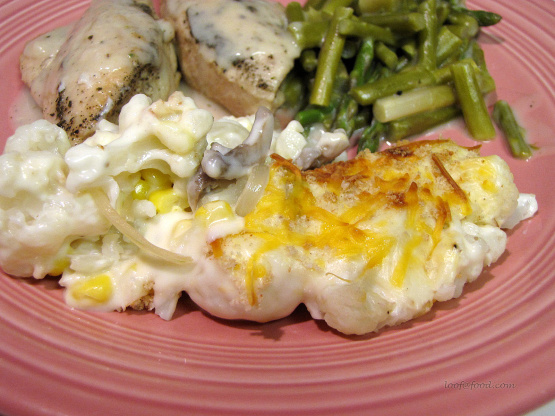 Growing up I didn't like cauliflower, now I find I do. Enjoy! Found on Great British Kitchen Cookbook http://www.greatbritishkitchen.co.uk/recipebook/index.php?option=com_rapidrecipe&page=viewrecipe&recipe_id=200&Itemid=28

Tasty cauliflower dish! There was nothing in the directions about using the hard-boiled eggs in the ingredients, so I just left them out. I did add some pepper to the sauce before topping the veggies. Thanks for sharing your recipe! Made for ZWT8, Chefs gone WILD!
Cut the cauliflower into florets and cook in boiling water for 5 minutes. Add the sweetcorn, bring back to the boil and cook for 5 minutes. Drain and place in a 1 1/2 quart baking dish.
Melt half of the butter in a non-stick pan, add the onions and mushrooms and cook for 5 minutes.
Add to cauliflower mixture and gently stir.
Place the remaining butter, flour and milk in a saucepan, heat stirring continuously until the sauce thickens and is smooth. Cook for a minute.
Remove from the heat and stir in the yogurt and half the cheese then pour the sauce over the vegetables.
Mix the remaining cheese with the breadcrumbs. Sprinkle over the sauce and brown under the grill.
If you can't get Double Gloucester cheese, A sharp cheddar also works well.