Parsley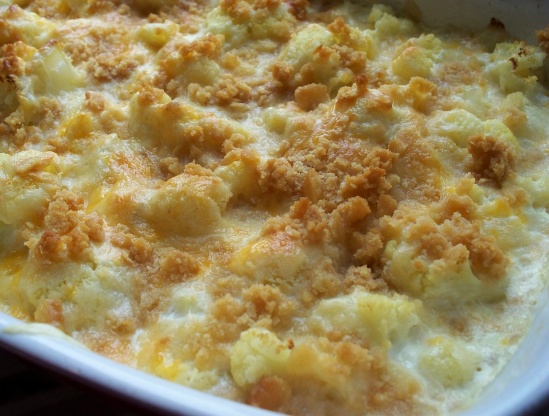 A very simple recipe for cauliflower that everyone always loves (even those who say they 'hate' cauliflower change their minds after trying this).

This is good! I used some broccoli with it and used the lower fat method with cornstarch & low fat milk. I'm thinking this is better with the 1/2 & 1/2 or cream but still really yummy lowfat. I will make this again!
Lightly butter a 13 X 9" pyrex baking dish and put in cauliflower.
Season lightly with white pepper and sprinkle all the cheeses over.
Beat the eggs into the half and half (you can also use 1 1/2 cups milk, 2 eggs and 1 tblsp cornflour as a sub). Pour over cauliflower-cheese mixture and top with buttered breadcrumbs.
Bake in a 375F oven until lightly golden-brown.
Allow to cool slightly before serving.
This is also super good at room temperature or cold.
(Try it for breakfast!) Reheats well, so can be made in advance- just pour a couple of tablespoonfuls of cream (or milk) over for moisture.