Prep 20 mins
Cook 30 mins
Directions
Break cauliflower into sections. Cook for 10 minutes in boiling, salted water. Drain well. Combine cauliflower with 2 tablespoons butter and onion, cheese, sour cream and salt. Spoon into a 1 1/2 quart casserole.
Melt remaining butter and add garlic and horseradish. Pour over the cauliflower mixture. Bake, uncovered at 350 degrees for 30 minutes or until heated through.
Most Helpful
Yum! This is some great cauliflower. I'm a fan of horseradish and loved the kick it gave to this sauce. I'd love this sauce on broccoli or brussels sprouts, too. Thanx for posting this!

This was a hit! Love the addition of the horse radish, it really adds a little something! This was easy and disappeared quickly here. Will be making this again!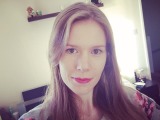 OMG! Delicious! The only slight changes I made were: I only blanched the cauliflower, added broccoli that was blanched, too. We didn't want it mushy. I also added a little more cheese, since there was a little more of the veggies than what is called for. But, it turned out delicious! It was a hit and will be a family favorite to pass along with new recipe boxes with each child now! LOL!