Dorel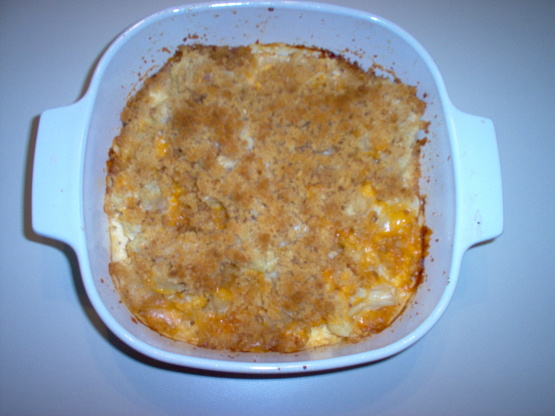 This is an elegant dish. Great for Thanksgiving or Christmas. The cauliflower is mellow and cheesy with a little crunch from the bread crumbs.
Put cauliflower in pan with 1 inch of water and 1 teaspoon salt.
Bring to boil; cover and reduce heat.
Cook for about 6 minutes until crisp tender; drain.
Butter 2-quart baking dish and add cauliflower.
Pour cream over top and sprinkle salt and cheese over all.
Mix lightly with spoon.
Combine 1/4 cup melted butter and 1/2 cup bread crumbs and sprinkle over top.
Bake at 350°F for 30 minutes.
Enjoy!