Parsley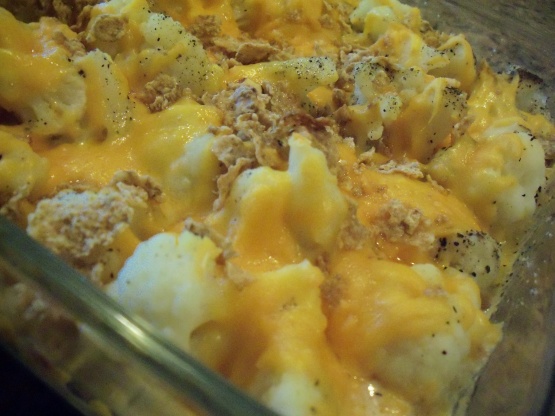 Cauliflower that is steamed and then baked and is both soft and crunchy and flavorfull.

This was good and easy to make. The taste was good, but the evaporated milk made it a bit runny. It kind of just pooled at the bottom. Next time I would make a roux, and then add the evaporated milk. I did really like the crunchy cornflake topping. Thanx for sharing!
Preheat oven to 350 degrees farenheit.
Chop cauliflower head roughly in medium sized chunks.
Steam cauliflower in a pan until semi-soft.
Spread out in bakeproof pan.
Pour in the evaporated milk (or use half and half instead).
Sprinkle on the cheddar cheese. (or you can use Monterey Jack pepper cheese).
Next layer is corn flake crumbs (I often use Special K).
Dot top with pats of butter or margarine.
Sprinkle top with salt and pepper.
Bake for aproximately 25-30 minutes until lightly browned on top.