Cauliflower and Olives (Greece)
Rita~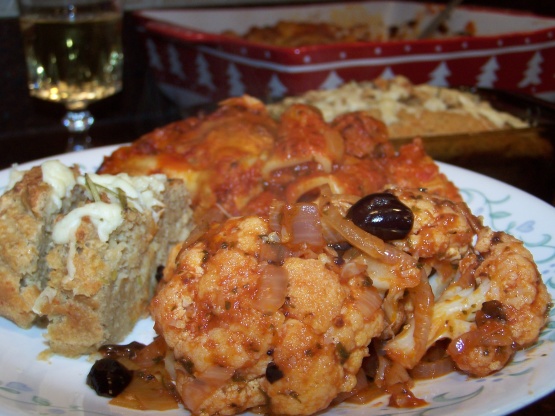 This unusual cauliflower recipe comes from the 1995 cookbook Greek Cooking. Green olives can be substituted for the black ones, if desired.

Top Review by Rita~
My water and lemon came to 3/4 of a cup, in which I added 1/4 cup paste to blend in. I did saute the onions and cauliflower together, never removing the cauliflower, added the water paste mixture and cooked till tender in a covered pot. 1 onion was perfect, I did half then slice into half moons. Using 2 teaspoons dried parsley. I did skip the salt no need with the olives. Did add garlic! Simmered with a lid on for 30 minutes till perfect crunch and tenderness. Thanks for the healthy yummy goodness.
Trim leaves from cauliflower & remove the core, then cut into medium, even-sized pieces.
In a large skillet heat oil & saute cauliflower 1-2 minutes, then remove cauliflower.
To the skillet add onion & cook to soften.
Add water & lemon juice to skillet, then bring to boil.
Return cauliflower to skillet & cook until tender.
Remove cauliflower to serving dish, then add tomato paste to liquid in the skillet, boiling to reduce.
Pit olives, then chop them roughly & add to the skillet.
Pour heated sauce over cauliflower & sprinkle with chopped parsley to serve.