Cauliflower and Extra Old Soup
Parsley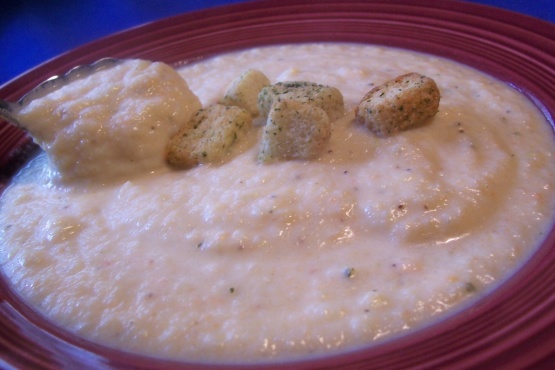 A few years of experimentation later and I believe I got it just right - a simple yet substantial cold weather soup. For a sophisticated twist, try it with Stilton cheese and port.

This is a creamy, silky, yummy soup! It's perfect for those of us on a low-carb diet. I used vegetable stock and real full fat cream. Left out the carrot and used two huge onions! I pureed the soup right in the pot with an immersion blender (known in our house as The Stick). Pay close attention to Step #8, do not let the soup boil, it can burn on the bottom of your pot. This reheats beautifully in the microwave. I can't wait to try a version with chopped leeks and maybe a little smoked mozzarella.
In large pot over medium heat, sauté onion, celery and carrot in olive oil until onion is translucent.
Add cauliflower and thyme to pot and pour in the stock.
Cover and bring to boil.
Reduce heat to medium and cook until cauliflower is tender.
Remove pot from heat.
Working in batches, puree the mixture in a food processor or blender and return to the pot (I prefer it slightly chunky).
Reduce heat to low and whisk in the cream, dry mustard, Dijon and cheddar.
Heat thoroughly but do not let the soup boil.
If you find the soup a bit thick at this point, add a little stock or water.
Add salt (if necessary) and pepper.
Serve.
A pleasant variation: Substitute 1 cup of thinly sliced leeks for the onion and 1 1/2 cups of crumbled Stilton for the cheddar; add 3 tablespoons of Tawny port and garnish with freshly chopped chives.