Cauliflower and Cheese Puff
DCKiki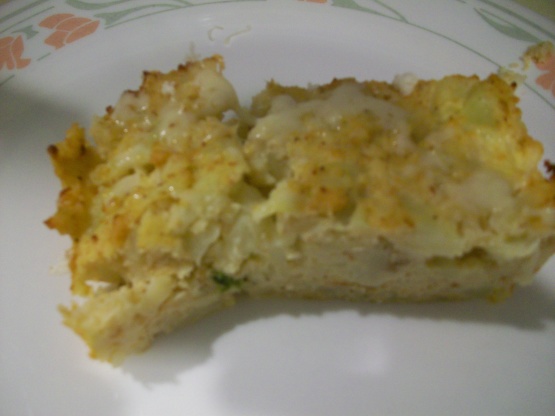 Recipe by Mirj
Always a big hit at our house, goes well with minestrone soup and even some macaroni and cheese.

Mashed Cauliflower: they never know they are eating cauliflower. brillant idea, and tastes great too. I actually had to make it with brie because I didn't have any other cheese on hand, but it still tasted great. I will make it again with chedder though too.
Thoroughly wash the cauliflower and break it into florets.
Place in a 2-quart pot with 1 inch of boiled water and cook until soft, about 10-15 minutes.
Remove cauliflower with the slotted spoon to a large bowl and mash.
Preheat oven to 325 F degrees.
Combine 2 ounces of cheese, bread, mustard, mayonnaise, eggs, salt and pepper with the cauliflower.
Pour into a greased 9 x 5 inch loaf pan.
Bake for 40 minutes.
Top with remaining 1 ounce of grated cheese and place under the broiler until browned.