Cauliflower and Carrots Soup
Parsley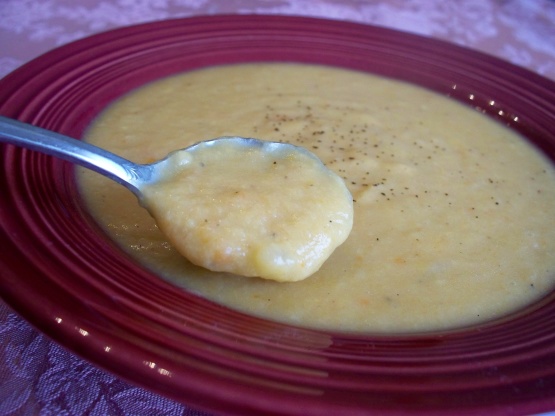 This recipe is very good. I made it a few years ago and it's from Jean Paré. This soup can be frozen. It's a thick soup.

This is a great recipe Boomette. I am sorry for trying to ruin it on my end. I used 2 potatoes just because I wanted to use them up. I think I may have used a bit more cauliflower than what was called for too. I had to add a bunch more water as a result. This is all from my changes. A lesson, do not mess with a good thing! I also did not add the sherry, as I did not have it. I was confused about the water being in there twice, until I printed out and read the instructions. Duh. I added some leftover almonds on top. I am not a carrot fan, but this was pretty good. The carrots add a touch of sweetness to the soup, but not too much. I love the addition of nutmeg. I also omitted the salt and I didn't miss it. The green specks are the chives I put in my bowl, but I stirred it before I took the picture. I truly must try this again when I am having a better day. Made and Reviewed for 123 Hit Wonders - Thanks! :)
Combine the first 5 ingredients in a saucepan. Cook until veggies are tender. Don't drain. Remove from the heat.
Incorporate the next 8 ingredients. Pour everything in a large bowl. Reduce in puree in a blender or food processor, in 3 or 4 times. Put back in the saucepan.
Add sherry wine. Reheat the soup.