Cauliflower and Brussels Sprouts
Bec6206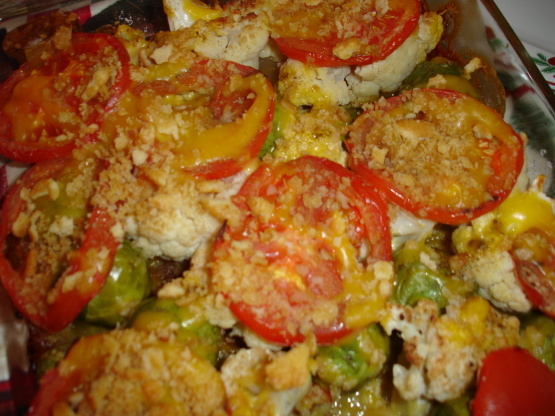 This recipe was my Grandma's. This was made for a Christmas side dish every year. It has always been a favorite of my mom's. I hope you enjoy!

I ended up using frozen califlower and brussels sprouts and cooking them according to the package directions.. then put them in the casserole dish and followed the recipe from there. I Liked the combo of the veggies with the cheese and thyme. Very good Thanks for posting. Made this for a Bargain Basement Tag.
Break the cauliflower into flowerets and cook, uncovered with the lemon juice in a small amount of boiling water for 5 minutes.
Then, cover it, and continue cooking until just tender.
Drain the vegetables.
Arrange cauliflowerets, brussel sprouts, and tomato slices in a shallow casserole dish.
Sprinkle with thyme, salt, and white pepper.
Spoon the condensed soup on top and sprinkle with crumbs.
Bake at 350 degrees until bubbly and heated through.
(app. 25 minutes?) Serves 6.