Cauliflower and Broccoli With Roasted Garlic
PaulaG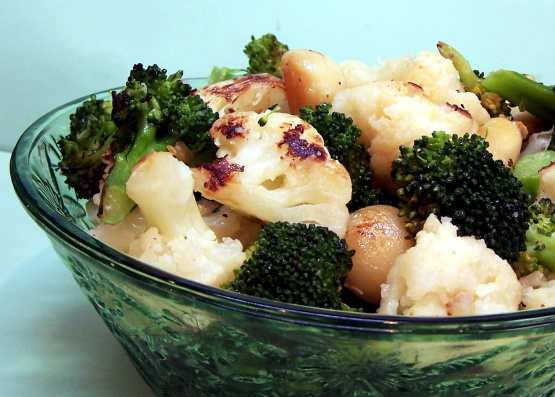 This recipe comes from Williams-Sonoma with some modifications. It is for the true garlic lover. The original recipe does not call for the chili oil. That is my personal taste preference. If you don't have the chili oil, it can be done with regular oil. If you use the chili oil you will need only 2 teaspoons of the olive oil for roasting the garlic.

This was a nice change of pace. I used one large head of garlic and would use even 2 large heads next time. After roasting the garlic, I cut the larger cloves in half. I didn't use the chili oil and I did let the veggies cook till they browned slightly.
Position a rack in the upper third of an oven and preheat to 400 degrees.
In a small baking dish, place the garlic cloves and drizzle with 2 teaspoons olive oil.
Cover the dish and bake until tender, 20 to 25 minutes.
Remove cover and bake 5 to 10 additional minutes or until lightly golden; remove from oven and set aside.
Place an inch of water in a pan and bring to boiling.
Put the cauliflower and broccoli in a steamer basket and place over boiling water; cook for 3 to 5 minutes or until tender.
Remove vegetables and set aside.
Warm 1 to 2 teaspoons chile oil or the remaining olive oil in a large skillet.
Add the steamed vegetables, stir and cook until warm, about 3 minutes; add the roasted garlic cloves and toss together until the garlic is warm, approximately 1 minute.
Season with salt and pepper and serve immediately.