Cauliflower and Broccoli Mornay
Parsley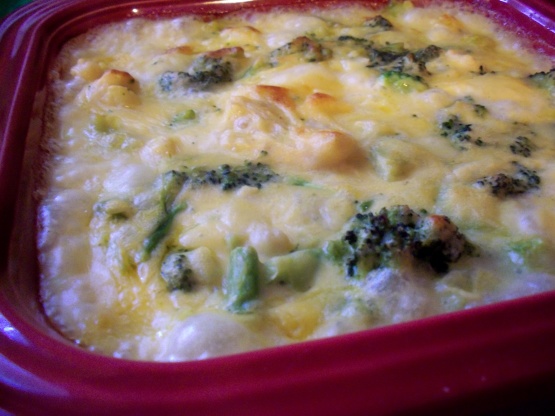 DH requested a change from steaming the broccoli and cauliflower and suggested a cheese sauce. The following is what was created. As I didn't measure the ingredients except for the milk for the cheese sauce I have approximated what I used. When making sauce use a whisk. UPDATE - please feel free to incorporate other vegies we have included carrot and or mushrooms and if wanting a one pot meal some cooked shredded chicken also goes well.

This is a very easy, quick to prepare and lovely tasting recipe for baked cauliflower and broccoli! I added in some carrots just cause I needed to use them up and that was a nice speck of colour in the mix. I loved the fresh taste of the veggies paired with the decadent cheese sauce. Mmmmm! Next time I would like to season the sauce a tad more, though. Maybe with some fresh herbs and a little nutmeg or black pepper. A real keeper, THANK YOU for sharing this with us, Pat! Made and reviewed for Aussie/NZ Recipe Swap #41 June 2010.
Preheat oven to 175°C.
Blanch broccoli and cauliflower florets in boil water for a minute and then drain and refresh under cold water.
Put into a small casserole dish (mine is 1 quart/1 litre).
For the Cheese Sauce melt butter in a small pot over medium heat and then add flour and cook for 2 minutes and then add the warm milk and whisk, once all lumps are removed you can use a wooden spoon, cook till thicken and then take of the heat and add the 1/2 cup cheddar and stir till melted.
Mix up the second 1/2 up of cheddar and mozzarella.
Pour cheese sauce over the cauliflower and broccoli and then sprinkled the mixed cheeses over and put in the oven for about 20 minutes or until golden brown.