Cauli-Flied/Cauliflower " Rice "
Calee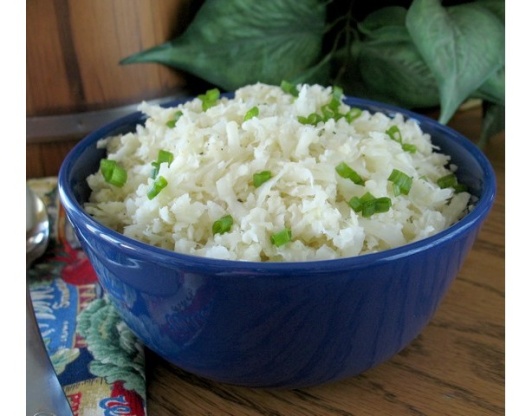 Low carb alternative to rice. If you didn't know, you'd swear it tastes just like rice. I found this on a blog on Recipes 4EveryKitchen posted by Ruth Daniels.

This is a great way to go low carb! I love the cook's suggestions for how to dress up the rice: Asian, etc.
Grate the cauliflower, including the core You can use the grater attachment of a food processor or the medium holes on a box grater. Squeeze out as much water as you can with your hands.
Melt butter and oil in a large frying pan over medium heat. Add the garlic and sauté just until the garlic sizzles(1-2 minutes). Add the cauliflower, sprinkle with the salt & pepper and stir-fry until tender-crisp, about 5 to 8 minutes. The length of time will depend in the cauliflower.
Stir in the green onions and add salt and pepper to taste. With your eyes closed, you'd swear you were eating rice.
VARIATION.
For a Pan-Asian taste, use oil only instead of the butter/oil combination. Scramble 2 eggs in the oil after sautéing the garlic. Add chopped, cooked meat or shrimp, give a few stirs, then add the cauliflower. Serve with soy sauce.
Other options: add some curry powder, some grated lemon rind to go with fish, or some chilli powder.