Bergy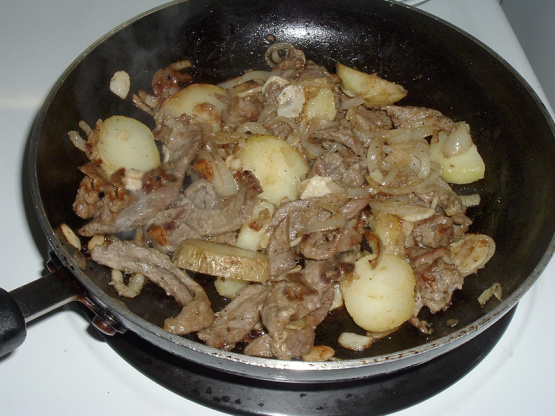 good for a quick and easy meal...recipe is from a friend.

Top Review by Debber
This is a very good "quick" week-night meal. I used some of our stew meat (we raise our own beef), and it went very quickly! Next time I'll add another onion, and do as Bergy suggested with the carmelizing. I added oregano, and wanted to get the fond out of the pan, so I added about 1/4 C. butter with 1 T. butter. That added a BEAUTIFUL brown glaze to the works. I sliced the potatoes before cooking in the microwave (I mis-read the directions), but that didn't hurt it any. This is a recipe I'll use when we have "leftover" steak or roast. It's so slick! *Made for PAC Spring 2007*
Slice steaks and onion into thin strips.
Brown steak, onion, and spices in oil.
While browning, microwave potatoes according to preset time.
Slice potatoes into rounds.
Add to meat and stir gently for about 5 minutes; cooking on low to medium heat.