davianng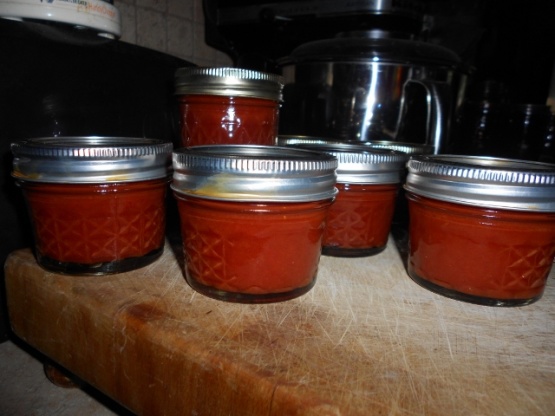 I'm posting this recipe as a request from Jeff Hixson-it's very nice and is much, much better than the store stuff!

Really good. Did add 1/2 cup sugar more, and 1/2 T. salt more. Husbands request:)
In a LARGE pot cook tomatoes, onions, peppers and garlic for 30-40 minutes, stirring frequently.
Puree vegetables in a food processor or run through a food mill.
Return to pot.
Tie the seasonings together in a cheesecloth bag and add to the tomato mixture.
Simmer mixture until reduced by about half, or to desired thickness-remember to STIR FREQUENTLY and watch the heat-this can scorch easily depending on your pot.
Remove spice bag when desired thickness is reached, and discard.
Spoon into clean, sterile hot jars leaving 1/4 inch head space.
Seal and process for 10 minutes at altitudes up to 1000 feet.
Any higher please consult canning chart or email me.