Catfish With Pecan Brown Butter
Rita1652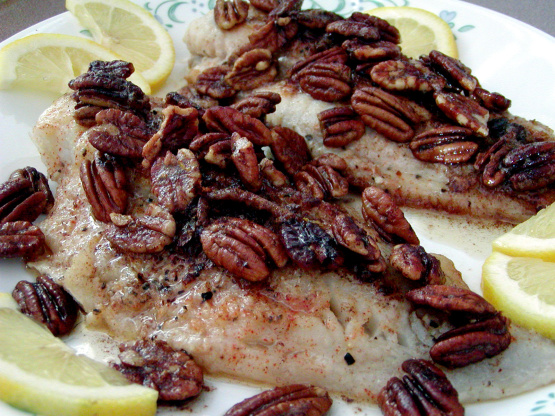 Catfish fillets are sauced with a lemony pecan brown butter and served with grits and greens for a wonderfully satisfying & quick down-home Southern meal. Quick, Soft, Sexy Grits #133161 are a perfect accompaniment to this catfish. Use a mix of greens for the vegetable dish, selecting your favorites such as kale, collards, escarole, mustard, Swiss Chard and beet greens; kale and collards will take slightly longer to cook. Simply pile greens in to a sauce pan with butter and small amount of water, cover and cook over high until wilted and tender, 2 - 3 minutes. Drain and keep warm. Point up the lemony and nutty flavors in this catfish dish by serving a full-bodied but bright Pinot Gris.

So simple and so good! I would have given it five stars if I liked catfish more, and I'm going to try this recipe with other fish and maybe chicken.
Melt 2 tablespoons of the butter in a large skillet. Season the catfish fillets with salt and pepper and the cayenne. Coat the catfish fillets lightly with flour, then add them to the skillet and cook over moderately high heat, turning once, until golden brown on both sides and cooked though, about 10 minutes. Transfer the catfish fillets to a platter; tent with foil and keep warm.
Melt the remaining 4 tablespoons of butter in the skillet. Add the pecans and cook over moderately high heat, until the pecans and butter are browned and fragrant, about 3 minutes. Stir in the lemon zest and juice and season with salt. Spoon the pecan butter over the catfish fillets and serve immediately with lemon wedges.