Catfish With Mushroom and Spinach Stuffing
Kelly M.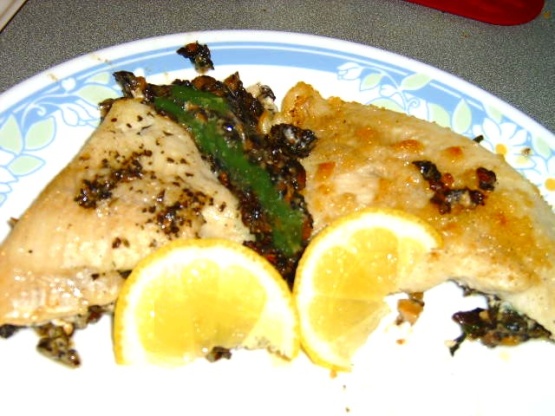 Easy and very tasty with a wonderful stuffing. Sprinkle the tops with breadcrumbs if you like, or just drizzle some butter and bake. Easily doubles or reduces. This recipe was created for the Ready, Set, Cook! contest.

YUM!This was delicious catfish and we will be making it again, DH suggested the stuffing was so good it could stand on it's own as a side dish!!The instructions were very clear and easy to follow, I did have to use 2% milk, had no cream, but it didn't matter, it worked great. The shallots, mushrooms, wine, lemon juice, cayenne and cashews were a wonderful mix with just the perfect little bite to it. The bread crumbs (I used panco) were a great finish and the timming was right on. I baked it for exactly 20 minutes, perfect flaky fish but not the least dry. Thanks for a really good dinner and we wish you lots of luck in the contest.
Preheat oven to 450 degrees F and place oven rack in upper third of oven.
To make the stuffing, in a large skillet heat butter and oil over medium heat.
Add shallots and saute until softened, not brown, about 2-3 minutes.
Add mushrooms and saute until tender and most liquid has evaporated, 5-8 minutes.
Add wine and stir until almost all evaporated.
Sprinkle mushrooms with flour and stir well to incorporate, 2-3 minutes.
Raise heat to high, toss in the spinach and add cream to skillet cooking to a boil, stirring constantly until thickened.
Remove from heat and stir in lemon juice, cayenne, cashews and salt.
Mix well, as the mixture will be somewhat thick, taste, and adjust salt if necessary, keeping in mind that if you are using salted cashews you may need less salt.
Butter or spray a baking dish and divide stuffing into two separate mounds and top each with a catfish fillet.
Sprinkle fillets with breadcrumbs if using, then drizzle with melted butter.
Bake in upper third of oven for 15-20 minutes, until fish flakes easily around the edges.
Serve with lemon wedges.