PaulaG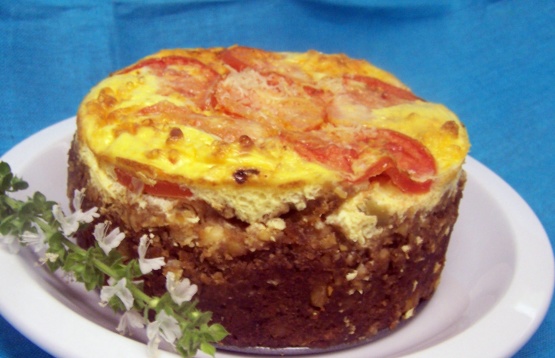 Don't let the number of ingredients fool you; this is pretty simple to make. The majority of the ingredients are just for the 1/3 cup Italian dressing that is mixed with the flour for the crust. Save the yummy sauce the shrimp is cooked in to sop up with crusty bread. This is a one-dish meal that really needs no accompaniment. You can serve it with plain yogurt or sour cream for some extra creaminess.
Top Review by PaulaG
This is actually a baby version of a great recipe. I cut the recipe in half and baked it in my 6-inch springform pan. I left off the yogurt and served it like is with a side salad. The recipe is laid out well and is easy to follow, step by step by step.
Crust

2⁄3 cup flour
1⁄2 teaspoon baking powder
1⁄4 teaspoon salt
1⁄4 cup olive oil

4

teaspoons butter, room temperature
1⁄8 cup balsamic vinegar

1

tablespoon water
1⁄2 teaspoon minced garlic

1

teaspoon brown sugar
1⁄2 teaspoon salt
1⁄8 teaspoon pepper

1

teaspoon grated parmesan cheese

1

(16 ounce) can garbanzo beans, drained, rinsed and mashed

Shrimp Sautee

4

tablespoons olive oil

4

tablespoons butter
1 1⁄2 lbs shrimp, peeled and deveined

1

garlic clove, minced

2

tablespoons lemon juice

1

teaspoon paprika
1⁄2 teaspoon red pepper flakes

Veggie Saute

1

medium onion, chopped

1

teaspoon minced garlic

1

cup green beans, ends cut and halved

1

red bell pepper, chopped

Egg Mixture

3

eggs, slightly beaten
1⁄4 cup milk

1

tomatoes, Sliced
1⁄4 cup parmesan cheese or 1⁄4 cup feta cheese
Preheat oven to 350°F.
In a medium mixing bowl mix together flour, baking powder and salt.
In a mason jar with lid, or other container with lid, combine the next 9 ingredients (olive oil, butter, balsamic vinegar, water, garlic, brown sugar, salt, pepper, parmesan) and shake until the Italian dressing is well blended.
Add mashed beans and dressing to the bowl with the first four ingredients and mix until blended.
Using an ungreased 9x3-inch springform pan, spread combined mixture in bottom and 2 inches up sides; set aside.
In a wide, shallow sauté pan over high heat, warm 4 tbsp olive oil and 4 tbsp butter. Add the shrimp and garlic and sauté quickly for 3 minutes - Add the lemon juice, paprika, pepper flakes, and salt and pepper to taste. Using a slotted spoon put shrimp in bottom of springform pan.
Sauté onion and garlic over medium heat until translucent. Add bell pepper and green beans and sauté until beans turn a bright green. Place on top of shrimp.
In a small bowl mix eggs and milk and pour over vegetables.
Arrange sliced tomatoes on top and sprinkle with Parmesan cheese or Feta cheese.
Bake for 40 – 45 minutes or until knife inserted in center comes out clean.
Allow 10 minutes to stand and then loosen sides of torta from pan.