JustJanS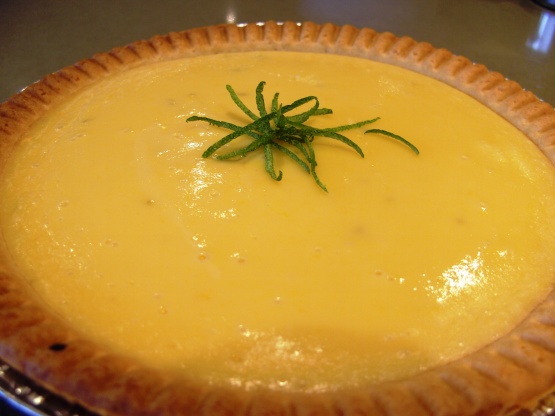 I found this AMAZING pie on another website some weeks ago when I was looking for a good key lime pie recipe that did not include a meringue topping (my fiance doesn't care for it). According to that site, this is the key lime pie served at the famous Catahoula's restaurant in Louisiana. Normally I am not a big fan of key lime pie, but this one is a winner! I'm including the recipe for the crust if you want to make your own; I simply used a store-bought prepared graham cracker crust, and it worked just fine. For a pretty presentation, pipe whipped cream around the edges of the pie, and garnish with fresh lime zest.

I thought I rated this, somehow it slipped by me. It's one of the best key limes pie we've had. My DH really enjoyed it too, which was shocking, because he is a very picky eater. Thanks for a great recipe!
Preheat oven to 350 degrees.
Prepare crust: Thoroughly mix all ingredients. Press into bottom and sides of a 10" pie tin with fingertips. Bake for 8-10 minutes, watching carefully to avoid letting the crust burn. Remove from oven.
For the filling: Combine filling ingredients and blend until smooth and creamy (I used my Bullet mixer for this and it worked wonderfully). Pour into pie crust.
Bake at 350 degrees for 35 minutes or until firm.
Remove and let cool. Refrigerate until ready to serve. Serve with whipped cream and fresh lime zest.