Dawnab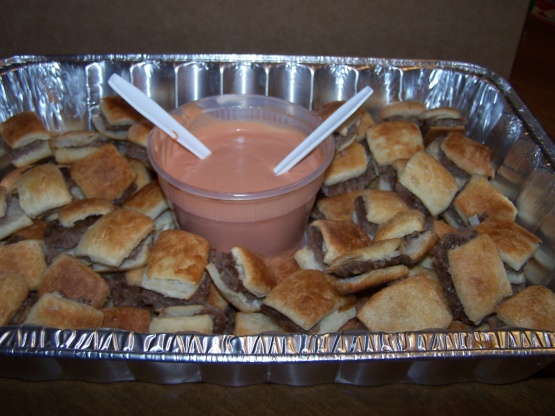 I found this recipe in a Pillsbury Appetizer Cookbook. It is a great addition to casual get-togethers. Kids and adults really enjoy the tiny bites of burger.

Make these for every gatering I go to. Always a big hit! I like to mis some katsup & mayo for dipping these mini into. I also add a dill pickle slice to each bite.
Heat oven to 375F.
Seperate dough into 12 breadsticks.
Cut each breadstick into 4 pieces; place on ungreased cookie sheet.
Bake at 375F for 10 to 12 minutes or until lightly browned.
Immediately remove from cookie sheet; place on wire racks.
Cool 5 minutes or until slightly cooled.
Split each in half, keeping tops and bottoms together to form miniature buns.
Reduce oven temp to 350F.
Beat egg in medium bowl; add onion, milk, Worcestershire sauce, salt and pepper.
Stir in bread crumbs.
Add ground beef; mix well.
Press ground beef mixture into thin layer in bottom of ungreased 13x9 inch pan.
Bake at 350F for 14 to 16 minutes or until thoroughly cooked.
Cut into 48 rectangles (8 strips crosswise and 6 strips lengthwise).
Fill buns with miniature burgers.
Place ketchup in small bowl for dipping sauce.
Serve immediately.