Cast Iron Skillet Cajun Chicken
gailanng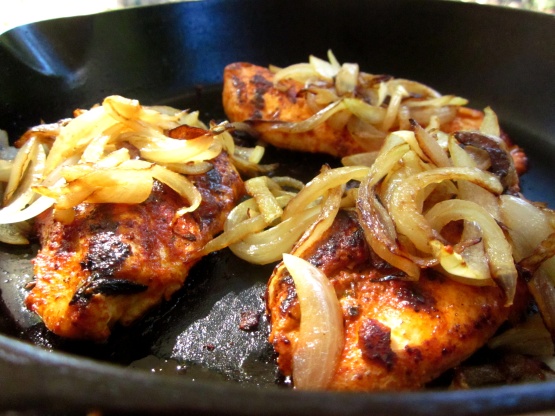 This recipe is so easy - and so good! One of my favorite dishes that my mother-in-law has been making for years. Perfect when accompanied with rice. Preparing in a good "seasoned" cast iron skillet is a must for the flavor to come out right. I prefer using chicken breasts with bones, but my husband likes boneless - either way it comes out great!

This was AMAZING! I used Cavender's Greek Seasoning because it's what I had on hand & I just don't know how it could've been any better. So satisfying. Thank you for sharing! I'll be making this often!!
1

vidalia onion, thinly sliced
1 1⁄2 tablespoons butter

2 -3

teaspoons Tony Chachere's Seasoning (adjust to taste)
1⁄4 teaspoon crushed white peppercorns
1⁄4 teaspoon garlic powder

4 -5

tablespoons water
Sprinkle chicken breasts with half the amount of Tony's seasoning. Set aside.
Warm up the skillet over medium high heat.
Add lard or butter an allow to melt.
Add onions and sautee until they look carmelized (they should turn a nice light brown in the cast iron pan, but not burned).
Add the remaining Tony's, crushed white peppercorns and garlic powder to onions and stir.
Turn heat down to medium.
Add chicken breasts and allow them to brown on one side. Flip each breast.
Spoon onions on top of breasts.
Add a few Tablespoons water.
Turn flame down to low/medium and cover pan.
Simmer for 20 minutes, checking occasionally.
Serve. The gravy and onions are great over rice.