Cast Iron Skillet Baked Cornbread
HopeK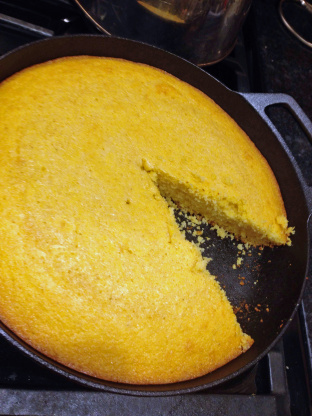 This is the result of the highly successful method of 'Trial and Error' to find the "perfect" cornbread for my 10" Cast Iron Skillet. Enjoy! This can be baked in other dishes (8x8, 9x9, muffin tins, larger or smaller skillets etc and the doubled recipe fills a 9x13) but I do not have baking times for those. *Updated directions 2/16/2015*

Is there anything better than finding a perfect recipe??? This is fabulous cornbread - light, sweet and the directions are spot-on. I only did one thing differently, and that was to swirl the butter in the hot cast iron skillet to coat the sides before adding the batter. My skillet is new and not seasoned for long so I expected the batter to stick. Not so. And by the by, I used butter all the way because, of course, everything IS better with butter. DH loved it and considers it cake (oh these Italians who don't get the concept of sweet/savory.) That said, I may reduce the sugar a bit next time (tonight!) just to see. A thousand thanks Doodle Pirate for working this one out. I now have a happy future without dry or gummy or gritty cornbread!
1 1⁄4 cups cornmeal
3⁄4 cup all-purpose flour

1

teaspoon salt
2⁄3 cup sugar

1

tablespoon baking powder
1 1⁄4 cups milk
1⁄4 cup oil (vegetable or canola NOT olive oil)

2

eggs

3

tablespoons butter, melted

3 -4

tablespoons butter (for oiling skillet) or 3 -4 tablespoons oil (for oiling skillet) or 3 -4 tablespoons Crisco (for oiling skillet) or 3 -4 tablespoons lard (for oiling skillet)
Position oven rack in the middle of your oven, preheat oven to 350, place skillet in cold preheating oven in center of the middle rack.
In a medium bowl combine all dry ingredients.
In a separate smaller bowl combine wet ingredients, mixing thoroughly.
Combine wet ingredients into dry and mix until well blended.
Slide the oven rack, with the skillet on it, out and place last of the butter into hot skillet. Immediately pour batter into hot skillet, and slide oven rack into place.
Bake for 18 - 20 minutes or until toothpick inserted into center comes out clean.