Cassoulet Oh Yeah Comfort
Rita1652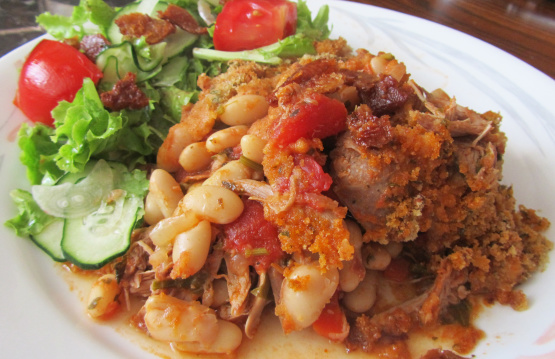 The ultimate French comfort food! I adore this dish. Full of flavor. Cassoulet is usually served with confit of duck, bone in (I use roasted duck removing the meat and break into bite size pieces and use the bones for stock) and many type of meats can be used. I did this version for a large party with other foods being served. In this recipe the pieces of meat is easier to serve and everyone get a bit of both. No handling of bones so no messy hands while eating.:) Butter can be used in place of the rendered duck fat. Can be frozen for up to 3 months. Just freeze before place crumbs on. Defrost and heat. Top with crumbs and continue as directed below. Canned beans (about 6-8 cans) can be used for less cook time or they will mush out so watch carefully. I like the dry beans and the longer cooking time for a more richer cassoulet.
Soak the Cannellini beans in water overnight.
Drain and top with salted water and bring to a boil then simmer for an hour.
Preheat oven to 400 degrees.
Remove skin from duck and place in a large frying pan fat side down to render the fat. When crisp and cooled break into bite size pieces and set aside.
Remove the meat from the bones and break into bite size pieces.
Place the bones in a pot cover with salted water and simmer.
In a 6 1/2 quart dutch oven brown bacon and sausage.
Remove meat from pan. When cool enough to handle slice into bite size pieces.
Caramelize the paste in the dutch oven. Add 1 tablespoon olive oil or duck fat add the onion, carrots, celery, and jalapeno if using. Cook for 8 minutes.
Stir in herbs. Season with salt and pepper.
Top with the meats, tomatoes, and the strained beans.
Give a good stir. Add enough of the simmered duck stock or water to cover the beans. Place lid on and bake for 1 1/2 hours stir and check to see if additional stock is needed.
Bake for 1 hour more. Check beans for tenderness continue baking if not done to your liking.
Remove from oven stir a taste seasoning with additional salt and pepper.
Reduce heat to 350 degrees.
Remove the crisp skin of the duck from the frying pan.
To the fat add 2-4 tablespoons butter and the bread crumbs and brown a couple minutes.
Top the cassoulet with half the crumbs and bake uncovered for 15 minutes.
Top with rest of bread crumbs and place under broiler to crisp and brown.
Crumbled duck skin can be sprinkled over the cassoulet or.
sprinkle on a side of a crisp salad.