Cassis-Splashed Melon With French Vanilla Ice Cream & Blackb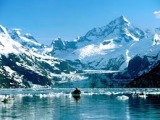 This is a super easy summer dessert that could easily be served to guests. The adult version includes cassis, a French liqueur. You could easily adjust this for kids by omitting the cassis. This idea came from Rachael Ray. Enjoy!
Directions
Cut off a sliver of each melon wedge bottom, so that they will sit nicely on a plate.
Pour 2 tablespoons of cassis liqueur or syrup across each melon wedge.
Scoop 1 ball of ice cream onto each wedge of melon.
Garnish each with blackberries and serve.
Simple as that!
Most Helpful
Sometimes the simplest things are best. I loved this dessert. The cantaloupe was sweet and juicy, the Cassis syrup was wonderful thick and tangy, vanilla bean ice cream and blueberries because I was out of blackberries and couldn't wait to try this. It was amazing. So much flavor and the texture was spot on. Thanks so much for sharing a new family favorite. Even the picky one enjoyed it. Made for CQ2 - Quebec.
What a wonderful combination of flavors and textures. I was pleasantly surprised at how great the melon was with the ice cream and berries. I made the Cassis a year ago and finally found something yummy to use it on!! Thanks! Made for Culinary Quest 2015/LBOB

I love melons of all kinds, and this is a lovely way to serve it. Had to borrow the Cassis, as we don't have much liquor in the house. All I had to do was tell my neighbor that of course he would get some. Simple but very lovely to look at. Thnx for posting, LifeIsGood. Made for ZWT5 for RRR.