Cassis (Blackcurrant) and Lemon Verbena Tea - Tisane - Infusion
BecR2400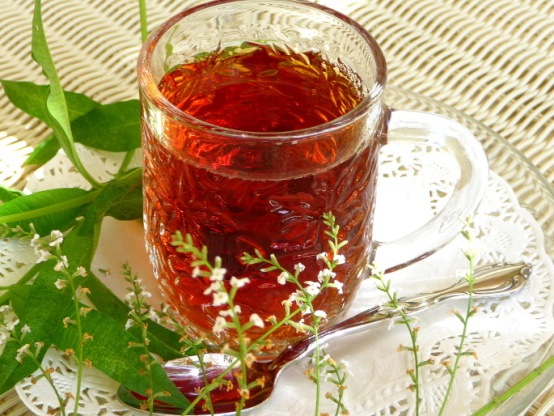 A lovely soothing and restorative tisane or tea that is made by steeping black currants and fresh lemon verbena leaves in boiling water, then strained and sweetened to taste with brown sugar or honey. I've used a bag of black currant tea in place of the black currant berries with lovely results, as it is difficult to source fresh or frozen black currants here in my town. Next time I may add a spoonful of currant jam to my tea (a la Russian style), as well. The tisane - tea may be served either hot, or chilled over ice. From 'Herbal Pleasures'. Black currants are very rich in many phytonutrients, antioxidants, vitamins, essential fatty acids and minerals. In particular, black currants are renowned for their high content in Vitamin C and potassium. They have been shown to have twice the potassium of bananas, four times the vitamin C of oranges, and twice the antioxidants of blueberries. Lemon verbena has traditionally been used to treat asthma, fever, colds, flatulence, stomach upset and diarrhea, and for its relaxing effects in teas.
Pour the boiling water over the black currants and lemon verbena leaves and leave to infuse for about 5 minutes, or longer to taste.
Strain the liquid into cups or tall heat-resistant glasses and decorate with a sprig of lemon verbena.
If you prefer a sweeter drink, stir in 1 teaspoon of brown sugar or honey.
*Note: I have made this tea-tisane using currant tea and/or juice in place of the currants, with delicious results.