Boomette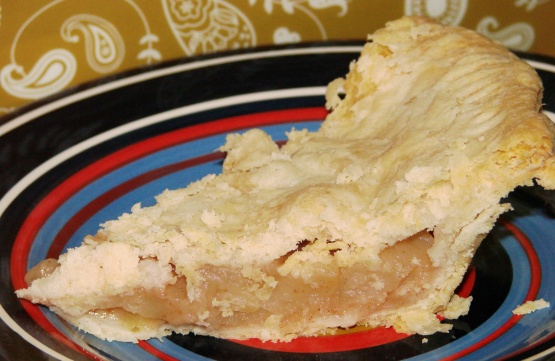 This is my Favorite apple pie and everyone I know loves it Its pretty basic with one extra ingredient. You will also need a 2-part pie crust. Also, I like to use MacIntosh apples or Fuji apples, but you can use your favorite or Granny Smith if you like that tart flavor.

I made a few small adjustments when making this pie ~ Used 4 cups of Fuji apples & 4 cups of Granny Smiths, then started the pie at 400 degrees F on a low oven shelf for a little over 15 minutes before reducing the oven temperature to 350 degrees F & moving the pie up to the middle shelf! I also tended it carefully, & put my crust protector on it during the last 20 minutes or so of baking! And, it did bake for slightly more than 1 hour! It was perfect, I thought, when it came out of the oven, & became one of several pies I donated for our park-wide pie-tasting event yesterday! DELICIOUS, for sure! [Made & reviewed for one of my adoptees in this fall's round of Pick A Chef]
Peel and slice all the apples and put them in a large bowl add the first 3 ingredients and stir til the apples are coated . Then add the milk and stir again.
Put all of it in the pan with the crust on the bottom and make sure the milk mixture gets in there that's what makes this pie so good cover it with the top crust and seal the crusts together with a fork make 4 slits near the center of the crusts to let it vent.
Bake at 350 for 45- 50 min.
Let cool for about 10 min before serving & ENJOY.