Casserole With Black-Eyed Peas
GaylaJ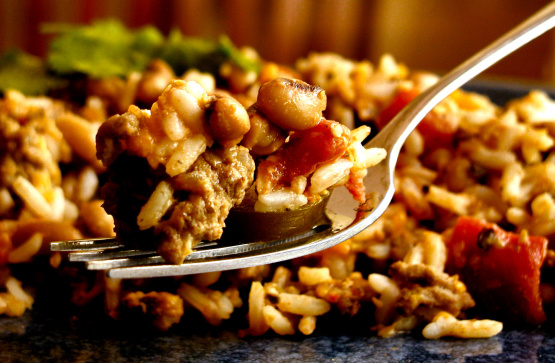 This is a delicious casserole and it's so easy to make. I've put it in the crockpot for 4 hours on low instead of baking it, and that works great, too, especially if you're taking it to a pot-luck. Southwestern U.S. is where you'll find this great recipe.

This is really good! I changed a few things around but the basic idea remained the same. I omitted the ground beef, making this a vegetarian side dish. I used 2 cans of regular (not ranch style) black eyed peas, I used brown rice and I used mozzarella cheese instead of cheddar. The result was a tasty, savory, cheesy casserole that was spiced nicely with the garlic (I used 2 cloves of garlic) and had a tangy zip of the canned tomatoes. Thanks for the recipe!
Brown meat.
Combine all ingredients in 13X9X2 casserole.
Bake at 350 degrees for 25 minutes.
Serve.