Casserole of Shrimp in Garlic Butter (Shrimp De Jonghe)
twissis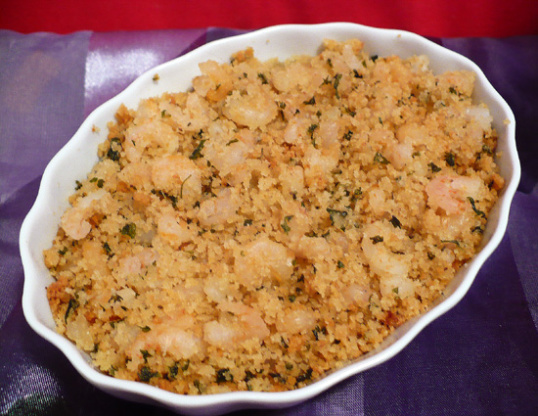 I think that in the 50's and 60's every special casserole had "cooking sherry" and "buttered bread crumbs" and parsley. This is another one of my mother's recipe from the big plastic bag. I swear this recipe says it has a "lusty" flavor.

I changed it to fit my candida diet so I eliminated the wine and bread crumbs and added lemon as the other chef recommended. This was delicious!!!!!
Rinse shrimp, drop unshelled shrimp into boiling salted water.
Cover; heat to boiling, then lower heat and simmer gently until shells turn pink, about 5 minutes.
Drain, cool in cold water.
Peel off shells and remove vein that runs down back.
To melted butter, add garlic, parsley, paprika, cayenne and sherry; mix.
Add bread crumbs and toss.
Place shrimp in greased individual casseroles or 11 x 7 baking dish.
Spoon butter mixture over.
Bake at 325F for 20 to 25 minutes or until crumbs brown.
Sprinkle with additional parsley.