Sara 76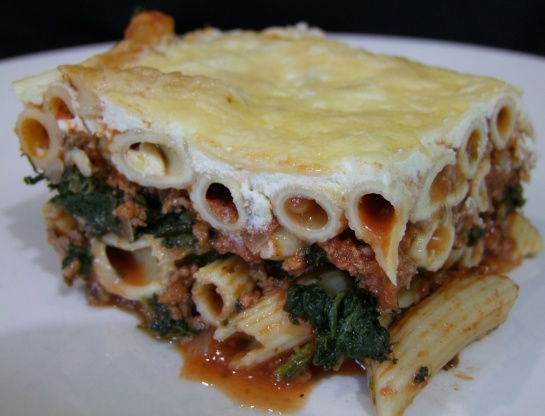 Easy to throw together for the family on a weeknight, and economical as well.

This is a fantastic family meal! It's definately a kid pleaser, and I love the addition of the spinach. It works great as a make-ahead meal, I made it yesterday as I knew I had a busy afternoon today, and it reheated perfectly in the microwave. My kids really loved it, thanks for sharing!
Brown beef; add salt and onion. Cook 5 minutes. Add tomato sauce, water, sugar and spices. Set aside.
Cook noodles until barely tender. Drain. Add meat sauce mixture.
Squeeze dry spinach and chop coarsley.
In 3-quart casserole dish, layer half of meat sauce mixture, add next layer of spinach, then remainder of meat sauce mixture.
Blend ricotta and sour cream. Spoon over top. Sprinkle with Parmesan cheese.
Bake 25-30 minutes in a preheated 375-degree oven.