ginnhart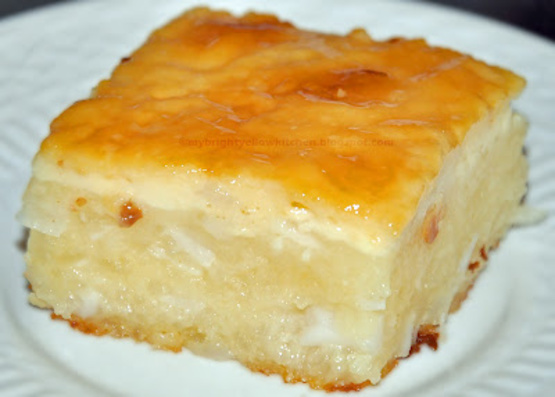 This is a classic Filipino dessert enjoyed year round. I hope you enjoy it! Most of the ingredients can be found in an oriental store near you.

Absolutely Delicious. The consistency of the cassava cake is fluffy and not too dense. I used 1/2 condense milk can in the cake and the remaining half in the topping. I pureed the mix since I knew I wanted a creamy texture rather than a chunky one. Overall, I'm satisfied and I feel like the coconut cream did the trick!
Preheat oven to 325° f.
In large mixing bowl combine cake ingredients.
Mix well.
Pour equally into two large greased rectangular pans.
Bake until top is no longer liquid (approximately 30 minutes).
Mix topping ingredients well and spread evenly on the two cakes.
Bake an additional 20 to 30 minutes.
Cool cakes completely.
Slice each cake into 24 equal squares.