Cashew, Shrimp & Pea Salad
Bayhill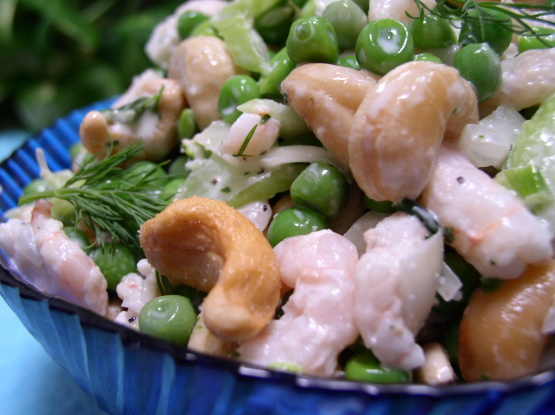 Based on a recipe from Sunset's cookbook, Quick Cuisine. It's a favorite of mine! And it really is quick -- no cooking!

Excellent salad mersaydees!! I cut the recipe in half, and did eat the 2 servings by myself. I love the cashews in this as well. It made for wonderful light lunch for me, and a recipe I will certainly make again. Thanks for sharing!!
Combine the dressing ingredients and mix well.
Set aside 2 tablespoons of the cashews. Combine remaining nuts, peas, onions, celery, and shrimp.
Gently mix in dressing. Season with salt and pepper to taste.
Line a serving platter or bowl with lettuce.
Spoon salad into center; garnish with reserved cashews and, if desired, dill.