awalde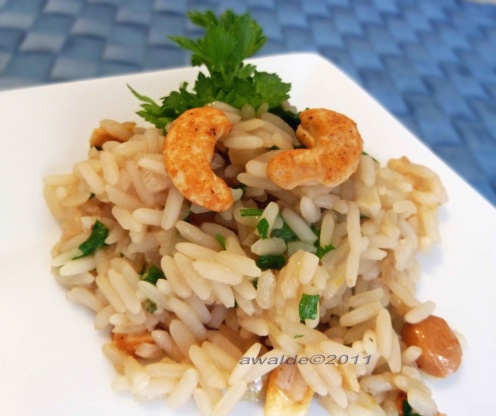 This is a very simple recipe, but it's made savory by using chicken broth and adding the cashews. It doesn't take long to make, and I've found that fresh parsley really enhances the flavor of the dish rather than dried parsley.

This has great flavor, and is a perfect recipe for adapting to whatever meal you are creating with spices or additions. It gets four stars from us for great flavor and versatility, then another for being so easy to throw together! I was pressed for time and didn't have white rice when I made this, so I followed the directions up to adding the rice then proceeded using instant brown rice according to the package directions. Worked just fine! When it was time to add the nuts I discovered that someone had put a hurt on my cashews so I had to improvise with sliced almonds. It was still terrific, though, and I imagine you can use just about any nut. Thanks for posting, breezer! Made for Newest Zaar Tag.
Saute the onion in the melted butter in a large skillet over medium-high heat, stirring constantly (about 4 minutes). When the onions are almost tender, reduce the heat and add the minced garlic. Cook for 2 minutes more. Add the chicken broth, rice and salt; bring to a boil.
Cover and reduce heat. Simmer for 25 minutes or until the rice is tender and the liquid is absorbed. Remove from heat, and stir in the cashews and parsley.