PaulaG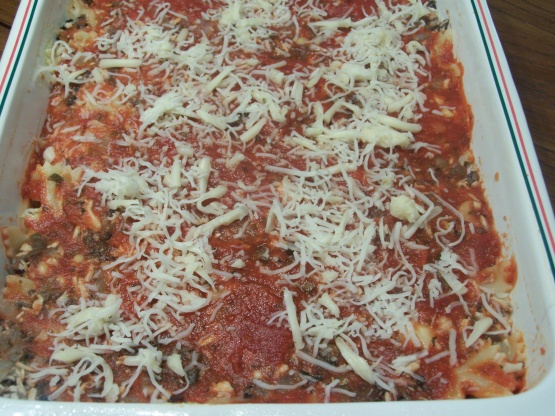 This is a completely different variation from the traditional Lasagna that most of us make. It will make a nice change from your regular recipe and should be added to everyone's cookbooks who likes Italian food. For those who think that you can't make a good pesto without pine nuts...I found out that cashews are marvelous instead.
Top Review by PaulaG
I am updating this review due to the fact that when reading it I realized I failed to mention that I was also out of lasagna noodles. Not wanting to go to the store I used farfalle which I cooked and layered as you would noodles. Carrol, You should be very proud of your creation. It is wonderful! I used ricotta instead of cottage cheese and sauted the onion and mushrooms in olive oil instead of the butter. Couldn't keep myself from sampling the pesto while putting it together. Delicious!
Place the first five ingredients (using only 1/2 of the cashews) into a food processer and pulse or use a hand blender until you have a moist paste
Add the cottage cheese and the eggs to the pesto sauce and blend again until just blended together but tiny chunks of cashews are still visible
Do not overmix
Set aside
Saute the mushrooms and onions with the butter and the salt and pepper until the most of the butter is absorbed
Add the cooked chicken to the mushrooms and onions and the other half of the chopped cashews
Mix well
Set aside
Grease a 9 x 13 inch baking pan
Pour 1 cup of the spaghetti sauce in the bottom of the pan
Lay 3 cooked lasagna noodles side by side on top of the sauce
Pour a line of the pesto/cottage cheese/egg mixture along the middle of each noodle putting about 1/6 of the mixture on top of each one
Mix the 1 1/2 cup of morzerella and the 1 1/2 cup of Monterey Jack cheese together and put 1/2 of the mixed cheeses over the pesto/cottage cheese/egg layer
Sprinkle half of the mushroom/onion/chicken/cashew mixture over the previous layer
Pour 1 cup of spaghetti sauce over the mushroom/onion/chicken/cashew layer
Make another layer of ingredients following instructions from # 7 to # 11, ending with the spaghetti sauce
Sprinkle the 1/8th cup of morzerella cheese over the top
Bake 350 degrees farenheit for about 40 minutes
It should be only slightly brown on top
Let casserole sit for 10 minutes before serving for the dish to hold together better
Cut between noodles and then horizontally to make 12 servings
Serve with Salad and Garlic Bread