CoffeeB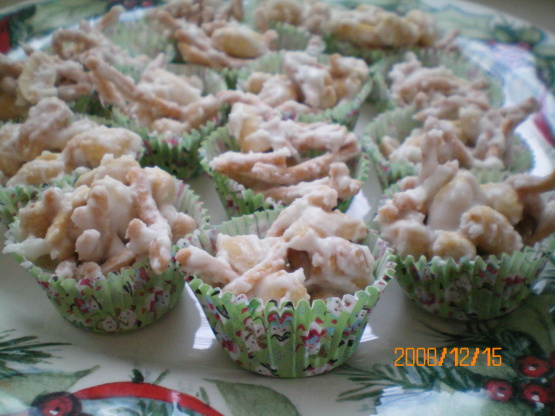 Found this recipe while digging through my mom's - I think I made these in 7th grade Home-Ec class (that's when they still taught it in middle school). Anyway, these are delicious and easy for kids to make, with a little help. Serving size was not included on the recipe, so I'm guessing.
Love making these any time of year! Just about everyone in my family loves them! I've been making them for about 30 years and have tried several tweaks. The all time favorite tweak for Thanksgiving and Christmas is to sub the cashews with an even mixture of pecans and craisins! Absolutely divine!
12

ounces white almond bark (about 6 cubes)
1 1⁄2 cups roasted salted cashews

1

(5 ounce) can chow mein noodles
Melt six (6) cubes bark (12 ounces) in a medium sized pan on low heat.
Combine nuts and chow mein noodles.
Stir into bark and stir mixture until well coated.
Drop by teaspoonful into candy cups or onto waxed paper.
Cool completely. Can be stored for several weeks in airtight container.