Hadice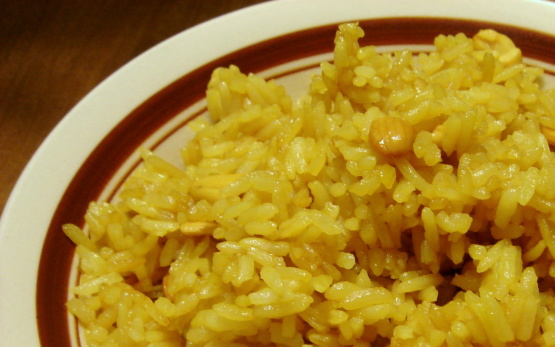 The cashews in this recipe replace any need for meat. Enjoy!

The tofu I used wasn't the softest but I think it was better that way as it looked like scrambled egg so the kids didn't rebel. I was afraid it was going to be really bland but it turned out really well and very yummy. The tofu comes out well and it is a good beginner recipe for tofu. And the 2 year old, 5 year old and 30-something year old all ate it happily including seconds.
Mix tofu, turmeric and onion powder in a bowl.
Heat 1 tablespoon oil in a skillet.
Add the tofu mixture and cook, stirring constantly, about 10 minutes.
Remove from heat and set aside.
Place a dry wok over medium heat.
When it begins to smoke, add the remaining oil, the onions, and the rice.
Stir fry for 3 minutes.
Pour in the"sauce" and stir fry until the rice is heated through, about 4 minutes.
Stir in the cashews and the tofu mixture.