MA HIKER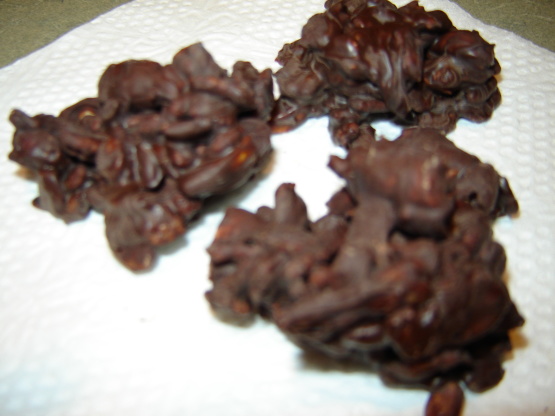 Wicked! Thanks to Godiva Chocolates, who provided the recipe on which this one is based. Prep time includes the drying time for the craisins.

We loved these! Made them for a Christmas party (at least those that were left after my son found them). It was easier to add the total amount of chocolate in the recipe (if you're using all dark chocolate like MA HIKER suggested, which we prefer, too), which is 10.5 oz. Buying the larger bars was easier and less expensive than finding the little bars. We also used a little more rice cereal and craisins to give them a little more body.
1⁄4 cup craisins (dried cranberries)

5

(1 1/2 ounce) milk chocolate candy bars, broken up (preferably Godiva brand)

2

(1 1/2 ounce) dark chocolate, broken up (preferably Godiva brand)
1⁄2 cup salted cashews, halved

2

tablespoons dry roasted salted peanuts
1⁄2 cup toasted rice cereal (Rice Krispies)
Soak craisins in boiling water to soften, about 5 minutes; drain.
Line a plate with 3 sheets of paper towels and spread craisins in a single layer on the towels; let dry, uncovered, at room temperature for two hours.
Make sure they are completely dry; moisture will cause melted chocolate to stiffen, making it very difficult to spread the chocolate into thin rounds.
Line two baking sheets with aluminum foil.
Place milk and dark chocolate in microwave-safe bowl and cook, in microwave oven, on Medium (50% power) for 1 minute; stir.
Microwave 30 seconds more or until chocolate is softened; stir until smooth and let cool.
Stir in nuts, cereal, and craisins.
Drop by heaping tablespoonfuls onto foil-lined baking sheets, spreading into two-inch rounds.
If chocolate mixture becomes too thick, return to microwave to soften.
Refrigerate crisps about 5 minutes or until chocolate sets, then remove from baking sheets.
Store crisps between layers of waxed paper in an airtight container in a cool, dark place for up to 3 weeks (as if they're going to last that long).