Bergy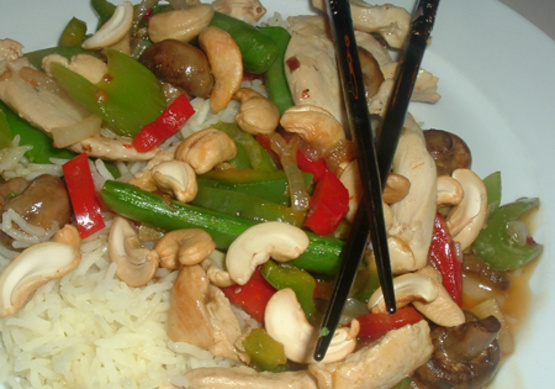 I love stir-fries cause they are so quick to fix and you can dump just about anything that you have in them. This one is no exception! Chicken and cashews yum...I usually serve this with veggie fried rice.
In a medium bowl, combine soy sauce, sherry, ginger, garlic and sugar.
Add chicken mix lightly.
Refrigerate 20 minutes.
Remove chicken from marinade, reserving marinade mixture.
Heat oil in skillet over medium heat.
Add chicken; stir-fry 3 to 4 minutes or.
until chicken turns white.
Stir in vegetables; stir-fry 3 to 4 minutes or until tender.
Dissolve cornstarch in reserved marinade mixture; mixing until well blended.
Add to chicken mixture.
Stir-fry until sauce is thickened.
Stir in cashews.
Serve over prepared vegetable fried rice.