Peter J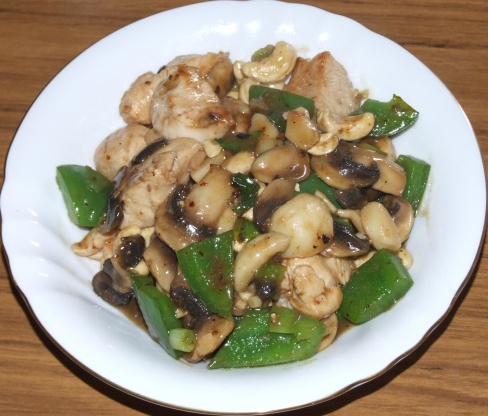 Another one of our favorites. It takes a little time but well worth it.

Top Review by Kasha
I would call this fast and easy. It needs a bit more taste with some sesame oil and I would add onions next time. Very good though.
Make rice and set aside. Keep warm.
Dissolve bouillon in 1 1/4 cups boiling water. Combine soy sauce, cornstarch, sugar, and ginger; stir into bouillon mixture.
Heat oil in a large skillet. Add chicken, and cook until browned, stirring often. Stir in bouillon mixture; cook over low heat, stirring constantly, 1 minute or until thickened. Add mushrooms and next 3 ingredients to skillet; saute 5 minutes or until tender.
Stir in cashews. Serve over hot cooked rice.