Casbah Chicken with Orange Infused Basmati Rice
Diane B.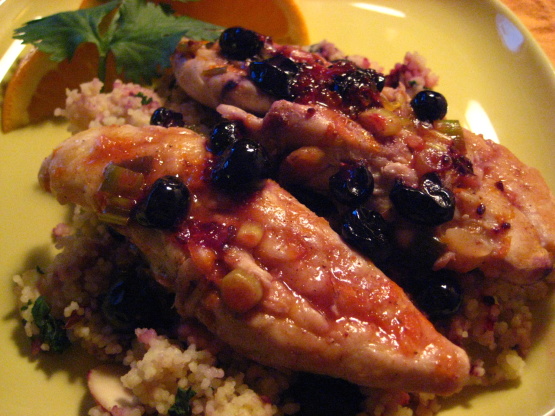 If you want amazing flavor with little effort, this chicken is for you. Very easy and quick to prepare, but the results will have you wanting to lick your plate. The cinnamon, cumin, cayenne and orange flavors make this dish, and will leave you wanting more.
Top Review by moxie
Ok, I know this is going to sound like the ultimate white trash review, but here goes. I had all the ingredients for this, was all ready to go, and then realized my husband had taken the last 2 oranges to work. Did we have frozen oj? Nooooo. But we had Sunny Delite. So I put a splash of that in with the rice and tossed in some lemon zest for good measure. Ditto for the sauce, although I left out the brown sugar because Sunny Delite is like 99 percent sugar anyway. Despite all that, the dish was excellent! The picky kindergartener ate a whole plate, which is unheard of, and DH and I loved it, too. I will make it again with real oranges someday, I promise. Or maybe not. Because Sunny Delite chicken was pretty awesome. Thanks, L!!!
In a saucepan, bring the water to a boil over high heat.
Add the rice, chicken base or bouillon, 1 Tbsp orange peel and the 1/4 tsp salt.
Return to boiling, cover, reduce heat to low, and cook for 15 minutes.
Remove from heat and keep covered.
Lightly sprinkle the chicken with salt and pepper.
Melt the butter or margarine in a skllet over medium heat, then add the olive oil.
Cook the chicken for 3-5 minutes on each side, remove from pan and keep warm.
Add the green onions to the pan drippings and cook over low heat for 1 minute, stirring frequently.
Add the remaining ingredients.
Turn heat back up to medium high and add the chicken back to the pan.
Cook for 5 more minutes, stirring frequently.
Fluff the rice with a fork.
Spoon rice on serving dishes, and top with chicken.
Spoon sauce over chicken.