Casablanca Chicken and Rice (Zwt3 North Africa)
Heydarl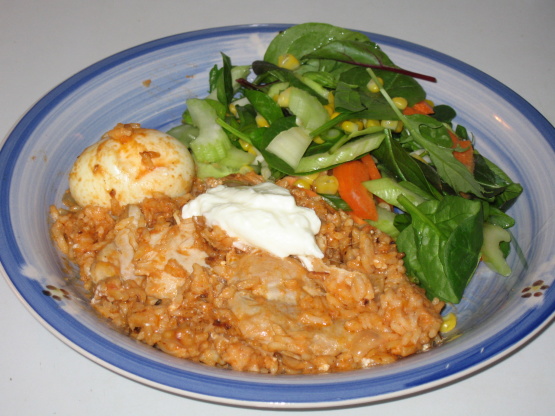 North African style chicken and rice from Maria Luisa Scott and Jack Denton Scott's book "Rice:More than 250 Unexpected ways to Cook the Perfect Food". They recommend serving it garnished with plain yogurt and a salad of tomato or avocado, or pineapple slices.

I made this recipe during ZWT3 & it was wonderful. Quick Sunday night dinner with lovely flavours. It was easy to put together & everything just worked well. Next time I will add a little more of the spices to our taste. We had a green salad with ranch dressing with this, which was a perfect mix of tastes. Thanks acerast for sharing this recipe.
In a dutch oven, heat the butter and oil over medium heat.
Evenly brown the chicken, seasoning with salt as you go.
Remove the thighs, and stir in the onions and garlic. Cook for 5 minutes or until they are soft - do not brown.
Return the thighs to the pot and spoon the rice between them.
Place the peanut butter and broth in a blender or food processor; blend until smooth and incorporated.
Add the cumin, coriander, ginger, and hot red pepper flakes to the peanut butter mixture; blend briefly.
Stir in the tomatoes and pour over the chicken and rice.
Bring the casserole to a boil, cover, loser the heat and simmer for 30 minutes, or until the thighs and rice are just tender.
Add the eggs to the pot, spooning the rice over them, cover and cook for 5 minutes or until the eggs are heated through.
Serve with plain yogurt and a salad of tomato or avocado, or pineapple slices.