I found this recipe on CopyKat Recipes about ten years ago. It no longer appears to be on the site. I've never tried it, but want to put it here for safekeeping. I used to live in Waco, and loved to eat at Casa Ole - their green sauce was one of my favorite things.
Directions
Mix and blend all ingredients until smooth.
Reviews
Most Helpful
you have left 4 ingredients out, and have add 2 ingredients that are not part of this receipe . of the original casa ole green sauce how do I know? source ? me former manager at casa ole
Wow, this is really close to the real thing! Loved it. I don't know of any Texan who hasn't eaten and loved this sauce at Casa Ole. Will definitely be on my list of dips when I have company over or have a party. Avocados are so readily available here and during the summer they are relatively inexpensive. My DH is diving in as we speak! Thanks for the post!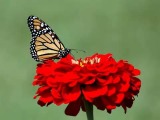 THANK YOU!! I have been craving Casa Ole green sauce for the last week. I live in Utah now and this was perfect.