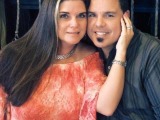 This is a delicious cocktail that tastes like summer in a glass!
1 fluid ounce melon liqueur
1 fluid ounce peach schnapps
1 fluid ounce coconut rum
2 fluid ounces white rum
3 2⁄3 fluid ounces orange juice
3 2⁄3 fluid ounces cranberry juice
2 lime twists, garnish
Directions
In a cocktail shaker full of ice, combine melon liqueur, peach schnapps, coconut rum, white rum, orange juice and cranberry juice.
Shake vigorously for about 60 seconds.
Strain into 2 tall glasses and serve with a twist of lime zest.