Carrots With Spiced Pecan Topping
Junebug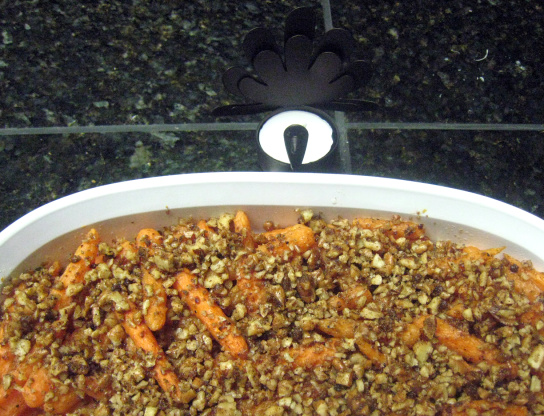 A great holiday side dish. Adapted from Seattle Times recipe. NOTE:This can be made through step 11 and refrigerated overnight.

Absolutely great way to serve carrots! Very flavorful, very satisfying! Think I'll be adding this to the dinner table this coming Saturday when my vegetarian son & his wife are here for a slightly late Thanksgiving dinner, when I do have a turkey breast, but everything else is strictly vegetarian! Thanks for this great keeper of a recipe! [Made & reviewed in I Recommend recipe tag]
TOPPING:.
In a large, heavy skillet, melt the butter over medium heat.
Add pecans and saute 2 minutes.
Stir in remaining ingredients; saute an additional 2 minutes.
Spoon onto a piece of foil and cool.
(Can be done 24 hours in advance and stored it a jar with lid).
CARROTS:.
Bring a large pan of water to a boil and add the carrots. Cook 5-7 minutes. The carrots should be tender, yet firm.
Drain and rinse with cold water until cooled. Pat dry with paper towels.
Melt the butter. Combine with remaining ingredients.
Spoon into a 9x13-inch casserole. (can be done to here and covered and refrigerated overnight. If so, remove carrots from refrigeration 1 hour before cooking.).
Sprinkle the spiced pecans over the top and bake in a pre-heated 325ºF oven 20-25 minutes just to heat through.