Carrots in Raspberry Chambord Sauce
MA HIKER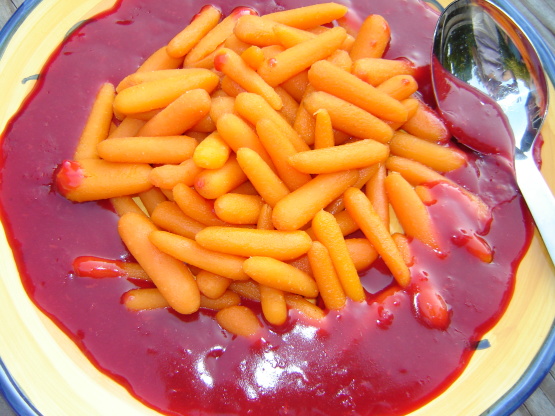 I have been making this recipe for years and it is my favorite way to eat carrots. This dish is sure to impress and please; thus, serve it to those who are worthy!

This recipe was different and tasty. I don't think I would want to have my carrots this way every time but it is a great change. And very festive, would be great when you need something for a holiday meal or a fancy dinner. I only made 1/2 a recipe because it's just my DH and myself at home now, and I really didn't think he would like it. I wish I had made the whole recipe, HE LIKED IT!
Boil the carrots in water to cover with 1 tablespoon brown sugar and 1 tablespoon salt in a large pot until fork tender, about 10 minutes. Drain well.
To prepare the sauce, drain the juice from the thawed raspberries into medium saucepan. Stir in cornstarch and heat over medium heat, stirring constantly, until the juice thickens. Stir in the Chambord and gently fold in the raspberries.
When ready to serve, reheat the carrots by sauteing in butter in a large skillet over medium-high heat for about 2 minutes. Sprinkle with remaining 1/4 cup brown sugar, remaining 1 teaspoon salt, white pepper and lemon zest.
When finished cooking, mound the carrots attractively on a platter, leaving a border around the edge. Spoon the bright red raspberry sauce into the border around the carrot mound and serve hot.